Pictured here are the chefs and kitchen staff who prepared the Epicure dinner.
In January 2022, the delegation of Escoffier disciples officially settled in French Polynesia, bringing with them the wealth of flavors and savoir-faire of this global gastronomic institution. Initiated by Christian Fréchède, a teacher at the Lycée Hôtelier de Tahiti, who has since sadly passed away, the delegation recently organized its "Epicure" dinner on June 22 at the Intercontinental Hotel in Tahiti.
This dinner has become a not-to-be-missed event for epicureans, philanthropists and lovers of good food. Il propose un menu exceptionnel, faisant partie du rituel gastronomique instauré par l'association. The event also highlights the work of sommeliers, maîtres d'hôtel and, of course, chefs, in a cross-disciplinary approach to Escoffier values.
This year, the French Polynesian delegation took the liberty of highlighting local products and producers, while paying tribute to Christian Fréchède, the late founder of the Escoffier disciples delegation in French Polynesia. The disciples wished to honor the great epicurean and cooking enthusiast that he was through the dishes and wines he loved, highlighting local products thanks to the participation of some of our chefs who were members of the Disciples d'Escoffier, such as Bénédicte Massonnet from the restaurant La Plage, Frédérique Plantecoste, Cyril Alonso and Franck David, accompanied by their teams from the InterContinental Tahiti, under the direction of Executive Chef Emmanuel Barazer, as well as Pierre Lecorne, President of the Disciples d'Escoffier of French Polynesia. Enthusiasts from the circle of fine wines and creative cocktails, such as Geoffrey Joris, Jim Cholet, Terainui Hunter and their team at the Intercontinental's Tiki Bar, as well as Vanessa Naudin and Isabelle Fréchède, have also contributed to this declension of dishes.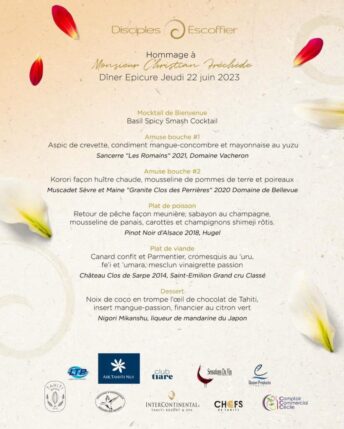 This exceptional dinner is also an opportunity to induct new Escoffier disciples. This year, 4 new disciples were inducted. They include chefs, restaurateurs, suppliers and farmers.
What's more, the dinner also had a charitable aspect, with part of the proceeds going to the Vahine Orama Tahiti Iti association. This association is actively involved in the fight against violence against women and their social reintegration.