URU CROQUETTE STUFFED WITH PUA'ATORO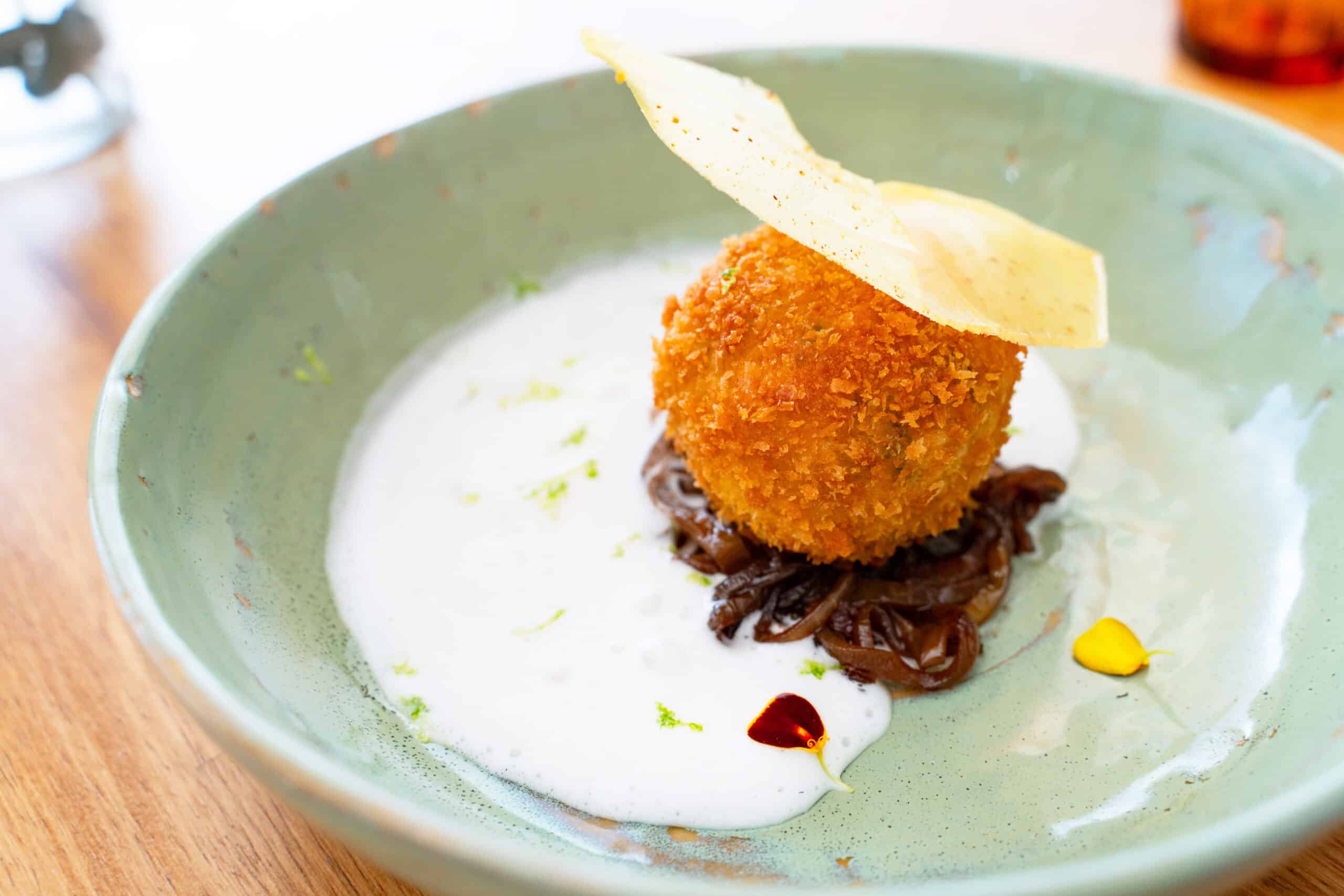 The winner of the first edition of Défi de Chefs presents the complete recipe for her dish: Uru croquette stuffed with pua'atoro. As a reminder, chef Raina from Nui Bistro Bon was challenged to revisit one of Fenua's signature dishes, Uru Pua'atoro.
ingredients
Uru
Oignon
Green onion
Garlic
Butter
Punu pua'atoro
Flour
Panko breadcrumbs
Eggs
Olive oil
Cooking oil
Balsamic vinegar
Coconut milk
Lemon
Preparation
Chop the onion, green onions and garlic.
Cook the uru, then set aside. Mashed potato to a purée.
Add butter, minced garlic, a little nutmeg, chopped green onions, salt and pepper. Mix well.
Form the mixture into balls in the palm of your hand, then flatten them into patties.
Heat the pua'atoro, then drain to remove as much fat as possible.
Top the uru dumplings with the pua'atoro, then close them to trap the filling inside.
Coat dumplings with flour, dip in beaten egg, then in panko breadcrumbs.

Fry the croquettes in hot oil until golden brown. Drain on paper towels.

To make the onion confit, sweat the onions in a drizzle of olive oil. Add water to prevent them from sticking. Once the onions are transparent, deglaze with balsamic vinegar and simmer for 15 minutes.

For espuma coco, pour the coconut milk into a container and smoke it with sawdust under an airtight bell jar. Season with salt and lemon juice to taste. Transfer the preparation into a siphon using 2/3 of a gas cartridge. Shake firmly.

For the uru chips, finely chop a piece of raw uru you've set aside. Fry directly in hot oil, then drain on paper towels.
Chefs de Tahiti Tips
Now you can enjoy these delicious uru croquettes stuffed with pua'atoro, served with onion confit and topped with a coconut mousse. Serve with crispy uru chips for a complete culinary experience. The centerpiece of this dish is the fried uru croquette. We therefore recommend frying them at the last moment, just before dining. The dish should be served piping hot to take full advantage of all the flavors and textures. Bon appétit !
Find the recipe in the second part of the video below: