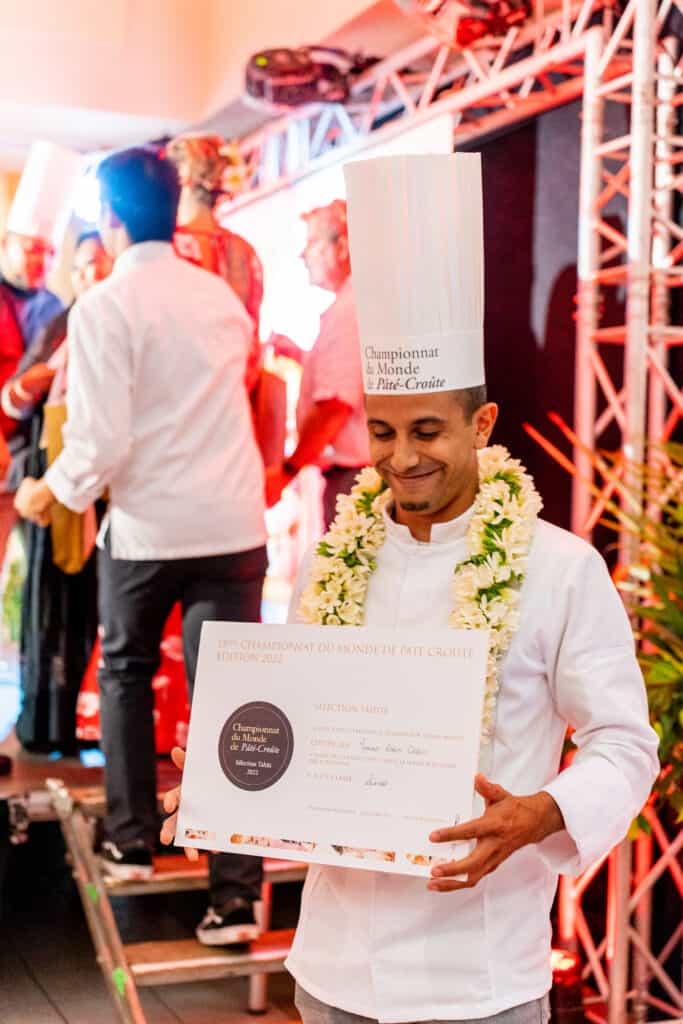 Pâté-Croûte Championship 2022
In October 2022, Chefs de Tahiti and REDSOYU brought you the first official Pâté-Croûte Championship in Fenua. The concept is simple: 6 renowned chefs from Tahiti, Moorea and Bora Bora compete for a place on the podium, but above all for a place in the world final in Lyon, which brings together finalists from Canada, the United States, Japan, France and Tahiti!
This international competition, held for over 12 years in mainland France, aims to revive a traditional dish that has long been plagued by the image of industrial charcuterie. Cooked as a starter, or sometimes as a side dish or cocktail, it remains one of the most technical and tasty dishes.
Pâté en croûte is a stuffed meat dish baked in shortcrust pastry, the star of aristocratic cuisine since the Middle Ages. Originally, the crust was not eaten, but only used to cook and preserve meat. Today, the crust, as much as what it contains, is of major gustatory importance.
REDSOYU's goal: to get people talking about Tahiti through the expertise of its chefs and products.
For the occasion, we were honored to welcome Didier Massot, Meilleur Ouvrier de France Bouche, as president of the jury. A meat specialist, he has worn many hats in his career, including butcher, charcutier, caterer and chef. He had the tough task of electing the best Pâté-Croûte of the class of 2022, accompanied by a jury of local professionals and epicureans.
The competition took place at the Lycée Hôtelier de Tahiti, Tahiti's main catering training establishment, on October 10. Each chef created two pâtés-croûtes, paying particular attention to the presentation of the slice, the jelly, the dough, the taste of the filling, the balance of the preparation, etc…
The public on hand were also able to enjoy the tastes, as they attended the official jury tasting, with aperitifs from Délices du Monde, Caviar & Co, Comptoir Commercial Cécile and L'Arbre à Pain.
After tasting the candidates' pâtés-croûtes in turn, the audience enjoyed a four-course dinner prepared by Hotel school students in the spirit of the bouchon lyonnais.
After the jury's deliberations, Marc Lintanf of ML L'Expérience Culinaire took third place on the podium, followed by Cyril Krieg of Fare du Pâté en croûte in second place.
In the end, it was Cédric Robin, chef at Restaurant Hei, who became Polynesian champion, representing Fenua in mainland France on December 5th, 2022. He competed against 14 finalists from Paris, Lescar, St Julien Chapteuil, Vienne, Lyon, Switzerland, Megève, Japan, Canada and the USA.
Paul Daniel, chef at the Four Seasons Bora Bora, Raphaël Guillez from Nui Bistro Bon, and Teva Teihotaata from Noix de Coco and Bouchons Lyonnais, were all commended for their participation, and did not disappoint.