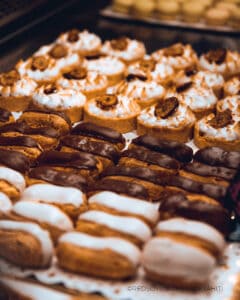 Hinerava and her family are originally from the Tahitian peninsula. Hinerava is the daughter of Myriam Taurua. Myriam, known for her Snack Myriam in Taravao, started out 30 years ago with a trailer. Attilio is Hinerava's brother and, with his older sister, has taken over the family restaurant, now called Le Manoa.
It's a family business. What drives this family is the smile on people's faces as they enjoy their products at their table. Their cuisine is gourmet and Polynesian. Myriam is so proud of her children. She shows them with her eyes.
It was in 2019, when she returned from France, that she decided to set up her own bakery, a dream that has now become a reality. She built it all up with a team, her team, which she trains and continues to train. She sees her bakery as a place for home-made, gourmet and simple products. Not a fine patisserie, but a patisserie as we like them in Tahiti, banana cakes, fruit tarts, mautini, lemon. Our savoury offering is varied and fresh, with a focus on local produce. There are the famous egg and ham canapés, croque monsieur, ham and cheese croissants, paninis… For breakfast, there are all the classics like firi fini and the Coco brioche that @FlorianOnAir "surkiffé".
Hinerava has made a success of her gamble, but as with her it's "always more", she decided to launch on-site breakfasts with raw fish in coconut milk and all the specialties we like to find at the table.
In the family DNA
there's gourmandise, generosity, the desire to please people, that's Hinerava.
Hinerava, a "good student", wanted to go into general studies, but her passion for cooking got the better of her. She left for France to take her bakery CAP, in the Cantal region of Auvergne. She is fortunate to meet many artisan bakers who are committed to passing on and sharing their craft.