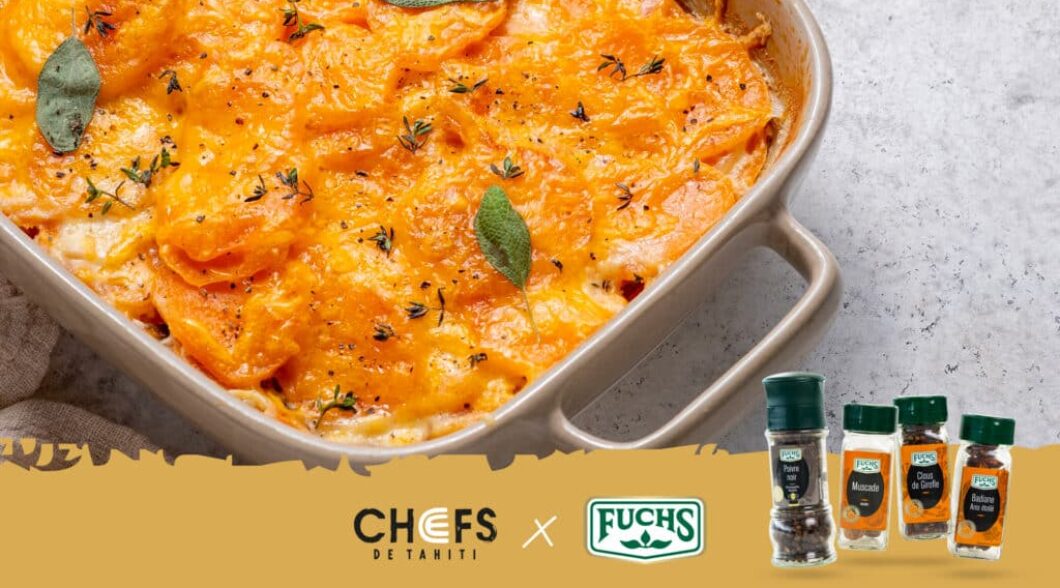 Are you looking for an unusual accompaniment for your piece of meat or fish? Chefs de Tahiti brings you its flavorful recipe for sweet potato gratin with coconut milk and spices. A real blend of local produce and world spices.
ingredients
800g sweet potatoes (small preferred)
30g butter (+ a knob for the plate)
50g flour
10cl milk
30cl coconut milk
Coriander
Salt
FUCHS black pepper
FUCHS Nutmeg
FUCHS Badiane star anise
FUCHS cloves
Preparation
Start by peeling your sweet potatoes, then cut them into even slices. After washing, cook for 5 minutes in boiling salted water, then drain.
To prepare the cream, melt 30g of butter in a saucepan, and sprinkle with a tablespoon of flour. Cook for 2 minutes, stirring briskly. Continuing to stir, gradually pour in the milk, then the coconut milk. Bring to the boil and cook for 4 to 6 minutes.
Take your FUCHS spices, and season to taste. For our part, we grated a little nutmeg, cloves, star anise and ground a little pepper into a bowl. Mix your spices well to achieve an even distribution before incorporating them into your cream.
In parallel, preheat your oven to 180 degrees and butter your gratin dish. Place the potato slices in the dish and cover with the mixture. Bake for 40 to 45 minutes.
Chefs de Tahiti Tips
To prevent the top of your gratin from overcooking, you can cover your dish with a sheet of aluminum foil as soon as the top has taken on a nice color, while continuing to cook. To know when to stop cooking, it's essential to check that the potatoes have melted when you prick them with a fork. The real secret of this recipe, which sets it apart from more traditional gratins, lies of course in the use of coconut milk, but also and above all in the FUCHS spices that enhance all our dishes with excellence. In Tahiti, we like to embellish our local products with spices from around the world, to take us on a journey with every bite.